This milk tea has a "toxic" that makes Thai young people check-in dry
This milk tea has a "toxic" that makes Thai young people check-in dry
Not only food, drinks look attractive but the new packaging really attracts the attention of young people.
Milk tea can be considered as a popular drink and is loved by many young people today, this drink is almost in many parts of the world. However, there is a big drawback when you walk around the city and want to drink milk tea, but also want to sip a snack for this dish. At this point, if one hand holds a cup of milk tea, the other hand holding the snack is just entangled can not take food to eat. Seeing the awkwardness of this almost everyone has encountered, a Thai shop has created a fabulous milk tea and junk food.
This shop is called Ba Ba Liu (meaning 886), which is a shop serving Taiwanese dishes, including milk tea and snacks. The special feature of the Ba Ba Liu cuisine is the way to pack food very handy customer.
The creative point of Ba Ba Liu is to use a plastic bowl filled with straws on the head. And the bowl is also attached to the cup of milk tea below. Therefore, when shopping for milk tea and even snacks in Ba Ba Liu, customers only need to use one hand can easily handle both food and drink.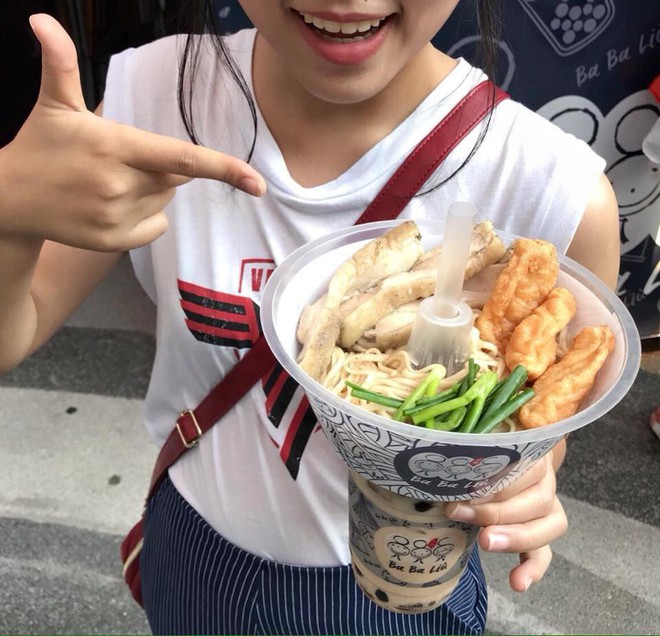 The packaging of Ba Ba Liu is also very simple. The snacks are put in plastic bowls, pearl milk tea is put into the cup and then sealed machine cup to drink milk does not pour out. After that, the staff will install the bowl of food on the cup of milk tea is finished.
At this point, you just plug the nozzle from the hole in the center of the bowl through the plastic cup cover that was able to enjoy the drink easily. By holding milk tea and junk food with only one hand, your other hand will be extremely free to work or take food into your mouth.
See more:
Thus, the food in Ba Ba Liu not only diversified, attractive but thanks to this creative way of convenience should help the number of customers on a more crowded. Especially, the hand holding cup of milk tea with snacks attached above to take a virtual live photo is also a great purpose for young people to check-in Ba Ba Liu quickly.
In addition to Taiwanese noodles, the Ba Ba Liu's snacks are as varied as fried chicken, shitake mushrooms, sausages … The price will be around 50-100 baht (about 36k – 72k), tea prices Milk is 45 baht (about 32k), and if you choose combo to include snacks and milk tea, the price will be 200 – 230 baht (about 145k – 165k).